My Blog
Posts for: November, 2017
By Jeannie Chung, DDS, MS, Inc. Specialist in Periodontics
November 20, 2017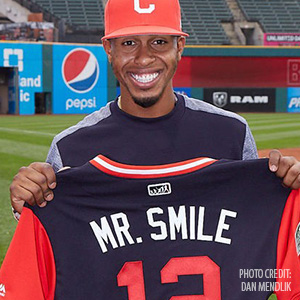 At the first-ever Players Weekend in August 2017, Major League Baseball players wore jerseys with their nicknames on the back. One player — Cleveland Indians shortstop, Francisco Lindor — picked the perfect moniker to express his cheerful, fun-loving nature: "Mr. Smile." And Lindor gave fans plenty to smile about when he belted a 2-run homer into the stands while wearing his new jersey!
Lindor has explained that he believes smiling is an important part of connecting with fans and teammates alike: "I've never been a fan of the guy that makes a great play and then acts like he's done it 10,000 times — smile, man! We've got to enjoy the game."
We think Lindor is right: Smiling is a great way to generate good will. And it feels great too… as long as you have a smile that's healthy, and that looks as good as you want it to. But what if you don't? Here are some things we can do at the dental office to help you enjoy smiling again:
Routine Professional Cleanings & Exams. This is a great place to start on the road toward a healthy, beautiful smile. Even if you are conscientious about brushing and flossing at home, you won't be able to remove all of the disease-causing dental plaque that can hide beneath the gum line, especially if it has hardened into tartar, but we can do it easily in the office. Then, after a thorough dental exam, we can identify any problems that may be affecting your ability to smile freely, such as tooth decay, gum disease, or cosmetic dental issues.
Cosmetic Dental Treatments. If your oral health is good but your smile is not as bright as you'd like it to be, we can discuss a number of cosmetic dental treatments that can help. These range from conservative procedures such as professional teeth whitening and bonding to more dramatic procedures like porcelain veneers or crowns.
Tooth Replacement. Many people hide their smiles because they are embarrassed by a gap from a missing tooth. That's a shame, because there are several excellent tooth-replacement options in a variety of price ranges. These include partial and full dentures, bridgework, and dental implants. So don't let a missing tooth stop you from being Mr. (or Ms.) Smile!
If you'd like more information about oral health or cosmetic dentistry, please contact us or schedule an appointment for a consultation. You can also learn more by reading the Dear Doctor magazine articles "Beautiful Smiles by Design" and "The Impact of a Smile Makeover."
By Jeannie Chung, DDS, MS, Inc. Specialist in Periodontics
November 12, 2017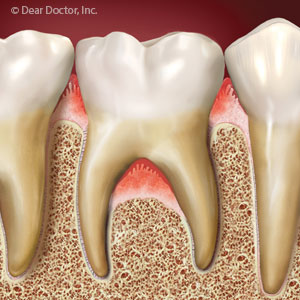 Many people learn they have periodontal (gum) disease after noticing gum swelling, soreness or bleeding. But what you can see or feel may be only the tip of the iceberg — the damage may extend much deeper.
Gum disease is caused mainly by dental plaque, a thin film of bacteria and food particles built up on teeth due to ineffective brushing and flossing. Infection of the visible gums is only the beginning — left untreated, it can advance well below the gum line and even infect supporting bone.
One critical concern in this regard is the areas where the roots of a tooth separate from each other, known as furcations. Here an infection known as a furcation invasion can cause the bone to weaken and dissolve.
This usually occurs in stages (or classes) we can detect through manual probing and/or with x-rays. In the earliest stage, Class I, we might only notice a slight pocket in the gums with no significant bone loss. In Class II, though, the pocket between the roots has become a horizontal opening of two or more millimeters, indicating definite bone loss with increased pocket depth getting "under" the crown of the tooth. Class III, the last and most serious stage, describes an opening we can probe under the crown all the way to the other side of the tooth; the bone loss now extends "through and through" the furcation.
The basic goal of gum disease treatment is to remove plaque and calculus (tartar) from all tooth and gum surfaces. But removing plaque below the gum line, especially "into" the furcations, can be challenging. We will need instruments called scalers to clean root surfaces, assisted sometimes by ultrasonic equipment to vibrate plaque loose. With furcations we may also need to employ surgery to aid gum or bone tissue regeneration or to make the area easier to access for future cleaning.
Of course, the best way to protect against furcation invasions is to prevent gum disease in the first place. Be sure to brush and floss daily and visit us for thorough dental cleanings and checkups at least every six months.
And don't delay contacting us if you see any signs of teeth or gum problems. The sooner we can identify gum disease, the more likely we'll be able to prevent it from doing serious damage to your gums, bone and teeth.
If you would like more information on treating gum disease, please contact us or schedule an appointment for a consultation. You can also learn more about this topic by reading the Dear Doctor magazine article "What are Furcations?"