My Blog
Posts for: April, 2018
By Jeannie Chung, DDS, MS, Inc. Specialist in Periodontics
April 22, 2018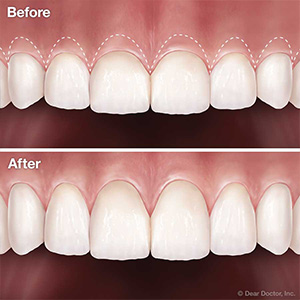 While we often associate tooth decay with cavities forming in a tooth's visible or biting surfaces, the occurrence of this all too common disease isn't limited to those areas. Cavities can develop in any part of a tooth exposed to bacteria.
Gum recession, the shrinking back of the gums from the teeth, can cause such exposure in areas normally covered by the gums. Because these areas are usually more vulnerable to infection when exposed, cavities can develop at or right below the gum line. Because of their location it can be difficult to fill them or perform other treatments.
One way to make it less difficult is to perform a crown lengthening procedure. While the term sounds like we're increasing the size of the tooth, we're actually surgically altering the gums to access more of the affected tooth surface for treatment. It's typically performed in a dental office with local anesthesia by a general dentist or a periodontist, a specialist in the gums.
During the procedure, the dentist starts by making small incisions in the gums to create a tissue "flap" that can be lifted out of the way. This exposes the underlying bone, which they then reshape to support the gum tissue once it's re-situated in its new position. The dentist then sutures the gums back in place. Once the gums heal, the decayed area is ready for treatment.
Crown lengthening is also useful for other situations besides treating cavities. If a tooth has broken off at the gum line, for example, there may not be enough remaining structure to support a crown. Crown lengthening can make more of the underlying tooth available for the crown to "grab" onto. It's also useful in some cases of "gummy smiles," in which too much of the gum tissue is visible in proportion to the tooth size.
Because crown lengthening often involves removing some of the bone and is thus irreversible, you should discuss this procedure with your dentist in depth beforehand. It could be, though, this minor procedure might make it easier to preserve your teeth and even make them look more attractive.
If you would like more information on crown lengthening, please contact us or schedule an appointment for a consultation.
By Jeannie Chung, DDS, MS, Inc. Specialist in Periodontics
April 12, 2018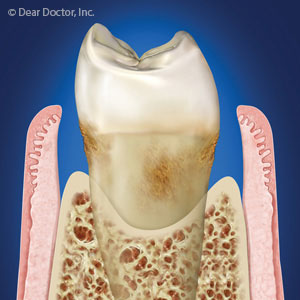 All treatments for periodontal (gum) disease focus on one goal — to remove any bacterial plaque and calculus (hardened plaque deposits) that are at the heart of the infection. Plaque is a thin surface film of food particles and bacteria that cause gum disease.
Plaque builds up on tooth surfaces due to inadequate oral hygiene. And as the disease progresses brushing and flossing won't be enough — you'll need our services and specialized equipment to fully remove the plaque and calculus. The basic technique is called scaling in which we remove plaque and calculus manually from tooth surfaces above and just a few millimeters below the gum line.
As the disease develops, though, the slight natural gap between teeth and gums may begin to increase to form voids known as periodontal pockets. Filled with infection, these pockets can extend below the gum line onto the roots of the tooth. If the pocket extends more than 4 millimeters, basic scaling may not be able to remove all of the plaque and calculus.
Periodontists (dentists who specialize in the treatment and care of gum tissues) can perform a surgical method to access these deeper areas. Known as flap surgery, this procedure aims not only to reach and disinfect periodontal pockets and root surfaces, but also repair damaged gum tissue and create a better environment for future hygiene and treatment.
As the name implies, we create an opening in the gum tissue with one side remaining attached to the gum structure — much like the flap of a paper envelope. Through this opening we're able to reach areas to remove plaque and calculus, as well as install both bone grafts to regenerate lost bone and growth factors to stimulate tissue growth. Once finished, we stitch the flap back into place with sutures and, in many cases, place a moldable dressing to protect and hold the flap secure while the incision heals.
This relatively minor procedure can be performed with local anesthesia and requires only a few days of recuperation. The results, though, can provide long-term benefits — reduced infection, better bone and gum health, and a more conducive environment for future maintenance of health — that could save your teeth and your smile for many years to come.
If you would like more information on treatments for gum disease, please contact us or schedule an appointment for a consultation. You can also learn more about this topic by reading the Dear Doctor magazine article "Periodontal Flap Surgery."